Teensy Weensy Valentiny Writing Fun!
Although I've seen her children's books, I never came across author Susanna Leonard Hill's website until today. I didn't know what I was missing, and now I'm hooked! A friend told me about an intriguing writing contest, which led me to Susanna's blog. The instructions were to write no more than 214 words about a grumpy Valentine experience! It had to show grumpiness and had to be appropriate for children. Unable to resist such a clever challenge, I put a little (pardon the pun) something together. Do you get it? Why Susanna chose that specific word length?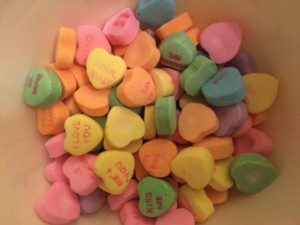 I showed my story to my mother (aka/Biggest Fan), and she said, "So clever! I was right there in the bowl!" This will make more sense once you read my teensy tale. Mom and Dad both said some other glowing things about how amazing I am, but I'll leave all that out since they're rather biased. I've never written anything so short, but it was fun! I encourage all my writer friends to try something like this. It made me chuckle and stretched my keyboarding fingers and squishy brain a bit. I mean, my two sisters (Hi, Margaret and Ginger!) will be the first ones to tell you that I'm terrible at math! But, hey, I can count to 214. 😉  Here's my entry. Feel free to comment or read it to your kiddos. Happy Valentine's Day! ♥
KANDIE'S KISS (214 words) – by Cathey Graham Nickell

Kandie buried herself as deep as possible. She wiggled and squirmed until she was hidden by her heart-shaped friends.
What kind of Valentine's Day surprise am I? Kandie scowled from the bottom of the bowl. She peeked out. That just made her even crankier.  
"I'm all wrong!" she wailed, eyeing the other sweets. "How can you smile and feel sugary at a time like this?!"
Old Man Tart chuckled from across the way, "What's yer bellyaching about?"
"You all have such beautiful words. I'm a fructose failure," Kandie sulked.
She had a point. Old Man Tart's tummy boldly stated: HUG ME! Pinky's bragged: TOO CUTE! Why, Honey's phrase even proposed: MARRY ME!
Kandie glanced down irritably at her own letters. "HISS ME? Seriously. HISS ME?" she pouted. "Someone at the factory cannot spell! Whoever heard of a candy heart that says HISS ME? I'll never find a Valentine! No one will want me!"
Old Man Tart waited for her to finish complaining. He cleared his throat and said, "A wise person once said there is someone for everyone. Kandie, I'm sure you'll find your match."
I should try to be optimistic, Kandie thought, scooting back to the top of the bowl. And the first person she spotted was Gummy Snake smiling shyly at her.
UPDATE: Amazingly, I won second place in this writing contest!