Visits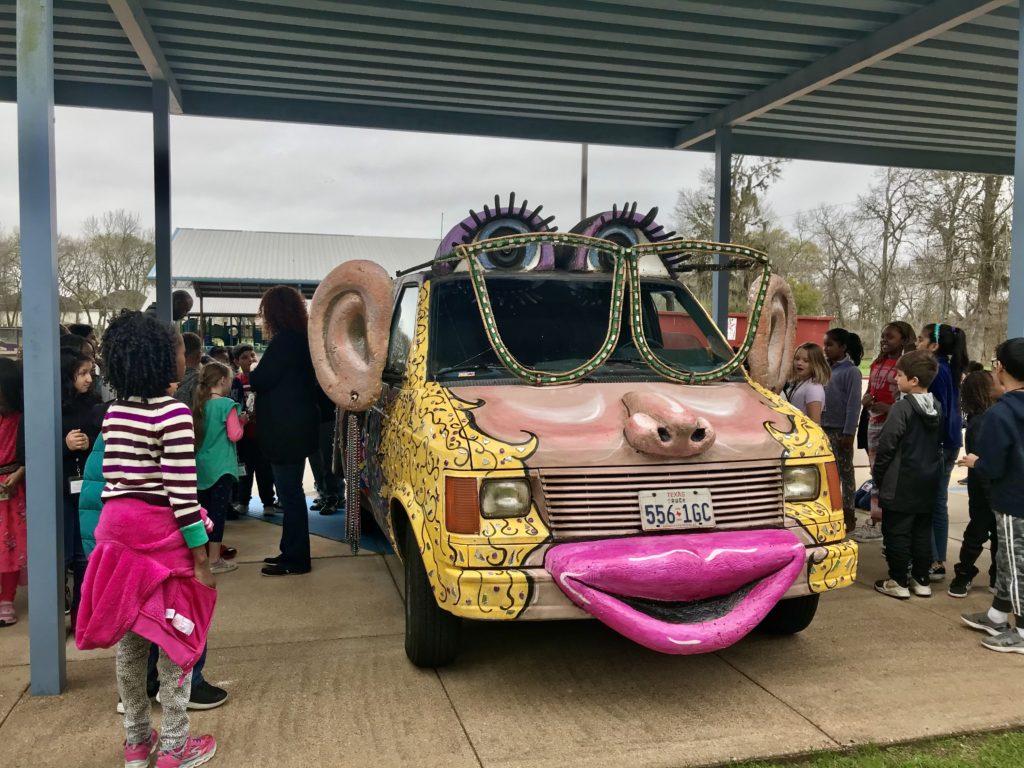 Cathey has an upbeat presentation called "Amazing Book Ideas!" that can be personalized for your school or organization.
Her two children's books are all about creativity, outsider art, and thinking outside the box. ARTHUR ZARR'S AMAZING ART CAR and YAZZY'S AMAZING YARN both have a whimsical theme of turning the ordinary into extraordinary! Cathey draws from her experience as a former newspaper reporter and public relations professional to bring an exciting presentation full of personal stories, writing/publishing tips, and "insider information" about her books.
Check out some of these testimonials.
The main presentation is appropriate for Kindergarten through 5th grade. For younger children, Cathey can read either book to preschoolers and talk to them about the ABC theme that runs throughout her art car story. Additionally, she has presented to junior high students (6th-8th) by focusing more on book publishing and writing skills. Visits are customized for each school. If you're unsure about something she covers, just ask.
SUGGESTED IN-PERSON FEES are $400 for a half day visit, and $600 for a full day (no limit on the number of presentations). If your school does not have funds budgeted for this, please contact her to discuss options. Cathey's main goal is to get her unique message of writing and creativity into the schools, so the visit fee should not be considered a deterrent. Please discuss travel expenses if your school is outside of the Houston area. Parents enjoy ordering autographed/personalized copies of Cathey's book, but there is no required minimum book purchase.
SKYPE OR ZOOM VIRTUAL VISITS are available. Prices will be lowered for Virtual Author Visits. We can work out an individual, customized plan for your school. For virtual visits, CATHEY OFFERS:
(a) a 30-minute virtual Story Time Reading with a Q&A time – $75;
(b) a 60-minute virtual full presentation where she shares slides to discuss writing & creativity, how to find story ideas, how she got the idea for her own books, and more, including a Q&A time – $150 per one-hour session;
(c) a FREE virtual 15-minute quick "Ask the Author" Q&A based on students' pre-prepared questions – Cathey has to stick tightly to the 15-minute timeline, so it's fast and fun. [Limit: One freebie per school].
CLICK HERE to download a copy of her "Book Pre-Order Form" that you can customize for your school once you have scheduled your Author Visit. 
Cathey understands that librarians and teachers will want to review/read the book prior to scheduling an author visit. If you do not already have a copy, please fill out the form on the CONTACT tab and request one. Cathey can donate a book to your school library (serious inquiries only, please). You may also purchase a copy via Amazon or through the PayPal button under the BOOKS tab on this website. Several Houston bookstores carry copies for sale (such as Brazos Bookstore, Blue Willow Bookshop, and Tomfoolery Toys and Books).
For Houston author visits, art car drivers are happy to join Cathey at your school during her in-person visits. Once a calendar date is set, she can ask a "cartist" friend (one or more!) if he or she is available. Most drivers request a fee of $60 for a half day and $120 for a full day. Cathey is happy to add their fee(s) to her invoice, and she will pay them cash on the day of the event. This usually makes the process easier for your school bookkeeper. Please discuss this with Cathey if you'd like the students to see a REAL art car up close!
Let's work together to plan an AMAZING day for your school or organization! Send an email to catheynickell [at] gmail [dot] com if you're interested in more information, or reach out through the CONTACT TAB on this website. Cathey makes every attempt to reply within 24-48 hours of receiving an email/request, so don't hesitate to reach out again if you don't quickly hear back from her.