It's been an AMAZING week!
Plenty of AMAZING news this week … My book is live on Amazon!
And since I'm the distributor, it's also a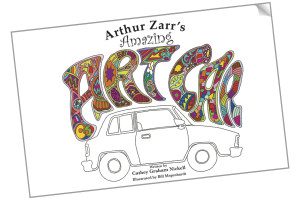 vailable for purchase directly from me through my website. Go to www.catheynickell.com and you should see the PayPal "Buy Now" button under my BOOKS tab.
It doesn't matter to me which way you purchase … Amazon or PayPal.  Either way is AMAZING!
I've showcased my book at a recent "Art of Conversation" luncheon hosted by City ArkWorks. It will also be showcased this week at the 34th Annual Gala for the Orange Show Center for Visionary Art. Lots of cool stuff going on.
My illustrator, Bill Megenhardt, will join me this coming Saturday to autograph and sell books. We'll be at the Wilchester Elementary "Holiday in the Park" Arts Market, from 10: a.m. to 4:00 p.m., Nov. 7, 2015, at 13618 St. Mary's Lane, Houston, Texas, 77043. It's an awesome event, which benefits her art class as well as a school Art Show in February. Stephanie Walton is an art teacher I met on Facebook, and she's the person who developed this fun sales marketplace. Stephanie is an inventive educator who uses art cars to teach creativity to her students. What a concept!
https://www.facebook.com/MrsWaltonsArtCar
If you know what an art car is, I'm confident that you'll enjoy Arthur Zarr's story. And if you've never heard of art cars, you might like learning about this artistic expression. If you do purchase my picture book, please post a review on Amazon. Thank you!
While you're at it, how about "liking" my Arthur Zarr on Facebook at: https://www.facebook.com/ArthurZarrsAmazingArtCar
Tip of the day: Be like Arthur Zarr & Be Amazing!