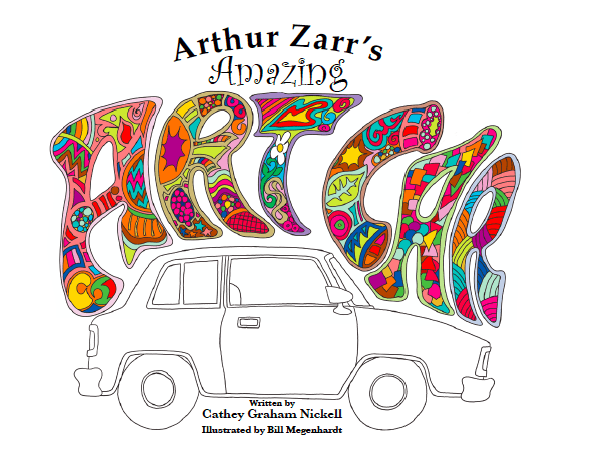 Arthur Zarr's Amazing Art Car
---
---
Order from Amazon
---
ALSO AVAILABLE FOR SALE AT:
BEER CAN HOUSE, 222 Malone St., Houston, Texas (weekends only).

BERINGS Baby and Kids Dept., 3900 Bissonnet St. and 6102 Westheimer Rd., Houston, Texas.
BRAZOS BOOKSTORE, 2421 Bissonnet St., Houston, Texas.
NORTHEAST LOUISIANA CHILDREN'S MUSEUM, 323 Walnut St., Monroe, Louisiana.
"Arthur Zarr's Amazing Art Car" by Cathey Graham Nickell (Children's picture book, hardcover, 40 pgs; launched November 2015). Illustrated by Bill Megenhardt. © 2016. ISBN: 978-0-9961150-0-1
PRAISE FOR ARTHUR ZARR'S AMAZING ART CAR…
"Nickell's book is a treat for sight, sound, and sense, for readers and artcarfans (no, you won't find the word in your dictionary just yet, anyway) of all levels."—Lone Star Literary Life CLICK HERE TO READ THEIR AWESOME REVIEW!

"A wonderful story of art, opening up to the joys of life, and celebrating the artist in everyone."— Lynette Wallace, Executive Director, Orange Show Center for Visionary Art
"Cathey's story, beautifully illustrated by Bill Megenhardt, is both engaging and warm. By the end, I found myself rooting for Mr. Zarr. I even felt a small twinge of disappointment when he didn't win the trophy. Artcar Nation highly recommends this book. Add it to your Christmas list, and give it to all the children you know."—Paul McRae, Artcar Nation
"Cathey Nickell's book will help fuel the desire to make positive changes in our world through artistic endeavor."—Alicia Duplan, Assistant Director, Art Car Museum, Houston, Texas
"I feel this book is so important. It not only is a great book to inspire children, but teaches them that creativity never stops."—Haley, book reviewer from The Page Unbound
© 2019 The contents of these pages, including text and images, are the sole property of the author and may not be used, reproduced, or re-posted in any manner without written consent. All rights reserved.